Do you know what the most effective page on most websites is?
The FAQ page.
If you don't have one on your site, watch this video and post one literally as soon as possible.
Why Are FAQ pages important?
This is what MOZ says:

Your FAQ is the key to providing your customers and search engines with all the answers they might need about your business.
FAQ pages are very effective for getting position zero rankings. Having a robust, frequently updated FAQ page on your website with questions and answers can help you rank highly for searches where users are looking for specific questions and information.
FAQ pages work especially well for local/small businesses like doctors' offices, dentists, chiropractors, etc. There is less competition for locally searched terms, so having a strong FAQ page can more easily get you position zero results.
FAQ pages are important because they align with voice search, most people ask SIRI and ALEXA questions.
FAQs and Position Zero
What is better than being in the first position on the SERP? Being in Position 0.
This is the coveted position zero rankings in Google search. Position zero refers to the featured snippets and "People Also Ask" section that appears at the very top of search results, right under the ads. If a business can consistently rank for position zero, it means Google considers that website an authority on those searched topics.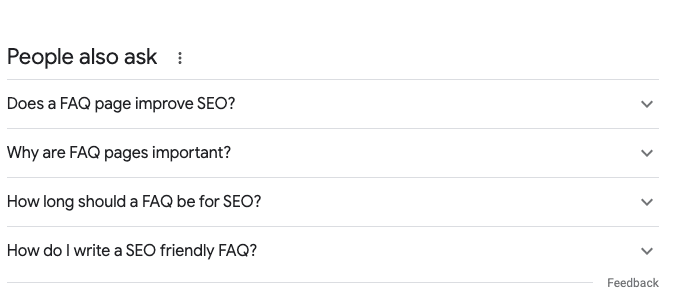 By curating and answering the common questions potential clients ask, FAQ pages can rank in Position 0 which can drastically improve organic search traffic.
FAQs Are Very Important for Local Business
For all local businesses including dentists, therapists, chiropractors other wellness practitioners, having locally optimized FAQ content is a huge advantage because the competition is lower with local search so the ability to rank well and fast is very high.
There is also the ability to incorporate targeted, local words and city names throughout the questions and answers which helps with local rankings.
Here is what I mean, here are some great example questions to include if you are a chiropractor.
What conditions do you treat? (back pain, neck pain, headaches, sciatica, etc.)
What techniques and treatments do you provide? (spinal adjustments, Activator, Thompson drop, orthotics, etc.)
Do you accept my insurance? (list major providers like Aetna, Blue Cross Blue Shield, Cigna, etc.)
Is a referral required to make an appointment?
How much does a chiropractic visit cost without insurance? What about follow-up appointments?
Do you offer any discounts for seniors, students, military, etc.?
Do you provide pediatric chiropractic care? At what ages?
What are your "city" office hours? Do you offer evening or weekend appointments?
How long are typical appointments? How many visits will I need?
Do you offer telehealth appointments or are all appointments at the "city" office
Is there free parking at the "city" office?
Voice Search
FAQ pages can be very beneficial for optimizing for voice search queries because most people ask SIRI and Alexa and Google questions.
Questions are a very natural way that people talk and search. Also people say more words than they typically type, so FAQs are great for ranking for long-tail keywords.
Another bonus about FAQ pages is that they are evergreen content, meaning they will remain relevant, useful and engaging over long periods of time, without becoming outdated.
For our SEO clients at Clapping Dog Media, we suggest that clients continually add to their FAQ over time as new questions come up. This shows Google that they are committed to providing expertise on subjects their clients care about.
How to write effective FAQ pages
The best FAQ pages answer the questions that your current and potential customers have, so ask them and answer their questions.  We suggest that you have a form on your contact page that provides an opportunity for users to ask questions, collect these and add them to the FAQ page.
You should also have a feedback form that you send to clients after they have worked with you, this is another way to collect  good questions. Ask, what questions did you have before we started working together? What questions do you still have?
AI and FAQs
As we mentioned in this post about Google and AI content, we recommend that you use AI tools as a collaborator but all content on the site needs to have critical thinking and humans to evaluate the information.
If you want to use AI to help with your FAQ, here are some prompts that recommend:
Write 10 frequently asked questions that customers might have about purchasing [teeth whitening services]. Make sure to include questions about pricing, features, options, and comparisons to alternatives.
Generate a list of 15 common customer questions about getting started with [a pediatrician], including questions about the process of getting started, and overall expectations, accepted insurance, parking and etc.
Please write 8 frequently asked questions that new patients may have when seeking [counseling at a mental health practice called 'Willow Counseling Services'] located in [Springfield, Missouri.]
Write 8 beginner FAQ questions about getting started with a new [chiropractor]. Provide 2-3 sentences answering each question.
The key is to provide details about the product/service, customer level, tone, and specific topics to cover. This helps the AI generate targeted FAQ questions and answers tailored to the business goals. The content should then be edited for voice, brand consistency and conciseness.