Google Business Profile, is the new name for Google My Business (GMB).
While the name officially changed about a year ago (Sept 2022) the importance of having a local SEO strategy has become even more important.
Sometime very soon (the official date hasn't been released yet) Google is going to roll out the newest version of Google Search, the Search Generative Experience or SGE for short.
SGE is going to turn organic traffic upside down.
It is our prediction that information based sites will lose a lot of search traffic. Instead of providing a list of websites for users to click on, the new search engine will provide an AI generated answer to the users' question on the search results page– therefore sending a lot less traffic to those information based sites like food blogs and travel sites.
For local businesses though, we think the potential for growing organic traffic is even greater.
If someone is looking for a "near me" search like for a dentist who offers teeth whitening or a counselor that specializes in teen anxiety they will find a larger quantity and more helpful results.
According to Google, "SGE will provide context about local places, using AI-powered insights that make it easy to compare and explore options."
Preliminary research shows that most local searches with SGE return 5 results, not the traditional 3-pack, giving more local businesses the opportunity to be at the top of the list.
In order to do this, local businesses will have to optimize their Google Business Profile and their website for local search.
In this post we are going to cover
What the Google Business Profile is
Who should have a business profile and who should not.
How to optimize sites for local searches
What is the Google Business Profile?
Simply, Google Business Profile allows businesses to reach customers via Google Search and Google Maps. The information in the Google Business Profile is what populates the info below– it is where businesses can add their address, hours, photos and customers can post reviews.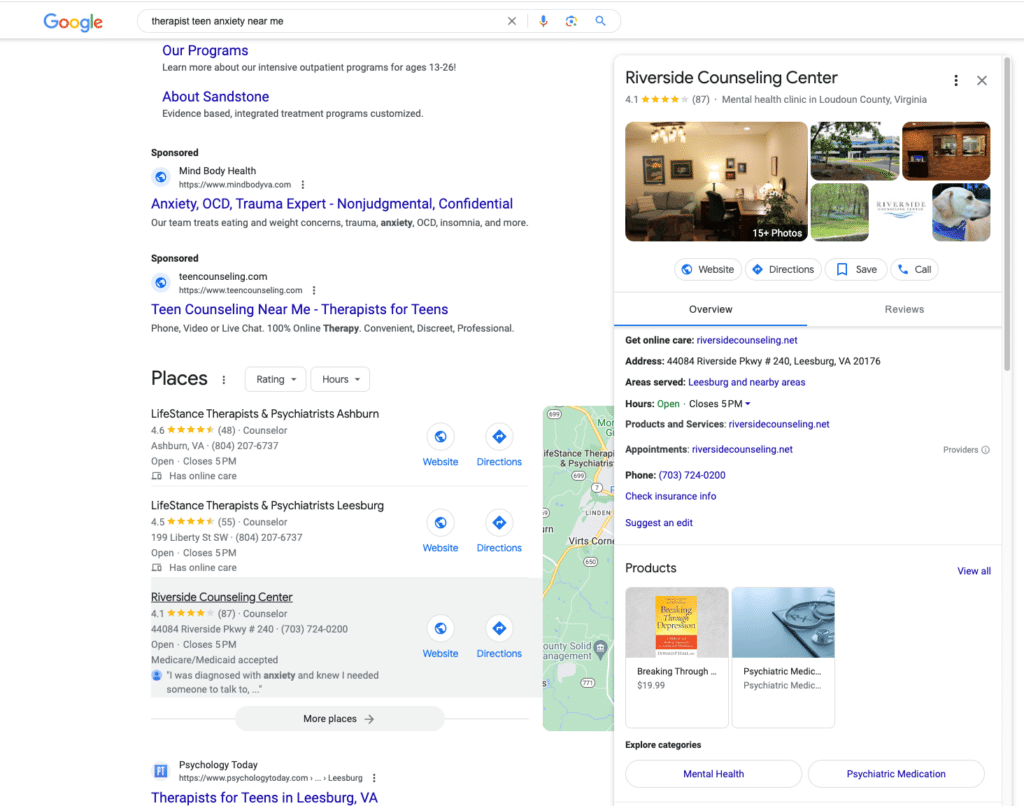 Optimizing a Google Business Profile is important because it will increase visibility on Google, it will help your small business gain credibility with reviews and it will make it easy to share information with potential customers.
Who Should Have A Google Business Profile?
Any business with a physical location should have a Google Business Profile.
And businesses that do not have a brick and mortar or a storefront, you should still have an account as long as you interact with customers. For example, plumbers may only see customers in their homes, but should still have a Google Business Profile. This includes:
Local brick-and-mortar businesses like restaurants, retail stores, salons, auto shops, etc. A Google Business Profile helps customers find and engage with local businesses.
Service area businesses like plumbers, electricians, HVAC technicians, landscapers, etc. A profile allows you to showcase your service area to nearby customers searching for those services.
Healthcare providers like doctors, dentists, chiropractors, physical therapists, etc. A profile can help advertise your practice and services to potential patients in the area.
Professional service providers like accountants, lawyers, consultants, graphic designers, photographers, etc. A profile makes you discoverable and shows relevant info to prospective clients.
Home service providers like cleaners, nannies, tutors, personal trainers, handymen, etc. Showcase your services in your local community.
Businesses with a physical location customers can visit like stores, showrooms, office locations, factories, museums, gyms, etc. Improves visibility and makes it easy for customers to find you.
Online businesses that serve specific regions/locations. You can specify your service areas and improve SEO.
The key is having a physical location or service area customers can travel to. Google Business Profiles are ideal for making local businesses discoverable. They help integrate your business info across Google Search, Maps, ads, and other products.
Who Should NOT Have Google Business Profile?
Any business that is 100% online, without a local presence are not eligible to have a Google Business Profile. These businesses include:
Fully online/e-commerce businesses without a physical location. Google Business Profiles are meant for local businesses.
Service area businesses operating nationally without specific regional service areas. The profiles work best for targeting local areas.
Businesses operating outside of the countries where Google My Business is available. It currently operates in many countries but not worldwide.
Individual sellers, such as people primarily selling on eBay, Etsy, Amazon, etc. Google Business Profiles are meant for formal businesses.
Businesses operating entirely business-to-business without a consumer presence. Google Business Profiles help consumers find local stores.
Independent consultants, freelancers, or solopreneurs without a physical workplace. The profiles showcase storefronts and offices.
Illegal businesses like weed dispensaries in areas where it's not legalized. Google prohibits promoting illegal activity.
Home-based businesses treating their home address as a storefront. This violates Google's policies.
Businesses focused heavily on ads rather than an optimized local profile. Google may suspend profiles attempting to mislead users.
The key criteria is having a physical or service area presence relevant for local search and discovery. If your business doesn't meet these requirements, a Google Business Profile is not recommended.
How to Optimize Your Site to Show Up in Local Searches?
If you are a business with a physical location or have a service area that customers travel, it is so important that your site is optimized for local search.
According to recent research, there is a 500% higher conversion rate for local 3-pack (soon to be 5 pack) compared to organic and paid ad conversions.
In order to rank in the top 3, focus on these things:
Completely fill out your Google Business Profile with accurate info – address, phone, photos, hours, services, etc. The more complete your profile, the better.
Include your exact service area. Be as specific as possible about the regions and cities you serve.
Add schema markup to your website (with the help of an SEO) to help associate your address with your business name. This helps confirm you as a local business.
Build quality backlinks, especially from directory sites like Yelp. More local citations and links will improve local SEO authority.
Encourage customer reviews on Google and other sites. More positive local reviews strengthen your map rankings.
Optimize your website for local SEO by using target keywords in titles, content, alt text, etc. We encourage you to write case studies and include the location of the client to reinforce your local info.
Create location pages on your site for each served city.
Have a page on your site that highlights the Area That You Serve
Local SEO is more important than ever for businesses looking to connect with customers in their geographic region. With Google's upcoming launch of its AI-powered Search Generative Experience, optimizing for local searches will become even more crucial. Businesses that take steps to improve their Google Business Profile and website localization will be poised to capitalize on the increased visibility coming from features like the local business 5-pack.
Businesses who optimize for local search stand to gain more website traffic, increased visibility, and most importantly, more foot traffic from nearby customers searching for their products and services. Local SEO is one of the most reliable ways for brick-and-mortar and service area businesses to drive real-world results and engage meaningfully with their local communities.
If you are ready to get started, reach out. We are here to help.