It is nearly impossible to keep up with everything going on with AI. Everyday there are new tools and more opinions on how it will affect business.
In this article I am going to outline the new search tool previewed at Google's I/O conference.
At this conference, Google introduced Search Generative Experience or SGE. And for those of us who use Google, it is kinda a big deal.
I am not going to dive into all of the new AI tools, but I will say I have enjoyed playing with There's An AI for That, where I discovered that there is an AI cheesecakes!
Wow. What a world.
What is AI?
AI or Artificial Intelligence is a broad term that covers several different technologies like Machine Learning, Natural Language Processing, and other emerging technologies that can perform tasks that typically require human intelligence.
The big goal of AI tools is to perform tasks better and faster than a human.
It is technology that is designed to make our work life easier, AI is the modern day equivalent to the invention of the dishwasher. Humans can certainly hand wash dishes, but the dishwasher can do it more efficiently.
AI isn't new to Google.  Google has been using it to make searches more accurate for years, it is the center of Google's search algorithms for Rankbrain and BERT.
SGE and SEO
At the I/O conference, Google announced a new version of search, Search Generative Experience or SGE. SGE is a dramatically different experience for Search because it uses AI to answer the search query directly on the SERP in a thorough, personalized and condensed way.
SGE can handle multi-step questions and will answer them directly on the Search Results Page.
This is how it will work, you'll still type your queries into a basic Google search box. But now on the results page, a colorful window pops up that says "generating" for a moment and then spits out an AI answer. Links for the sources of that information line up alongside the response. It is also easy to converse, or ask follow ups in the pre-loaded buttons below the AI generated answer.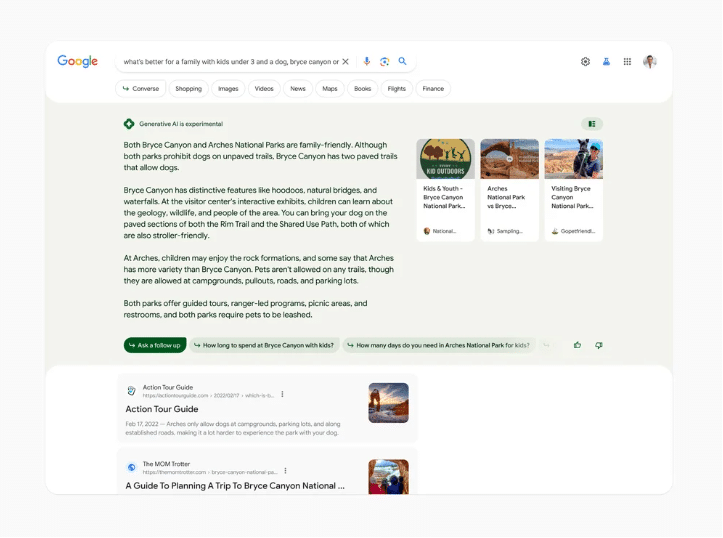 The example Google offered was this question, What's better for a family with kids under age 3 and a dog Bryce Canyon or Arches?
This is a more complicated search query and Google's new tool synthesized the answer into one sentence, "Both Bryce Canyon and Arches National Parks are family-friendly. Although both parks prohibit dogs on unpaved trails, Bryce Canyon has two paved trails that allow dogs."
This integration of AI and Google search is the most significant change to Google search in at least a decade. And comes very quickly after Open Ai and Bing combined efforts.
If you want to see more, here is a flashy promo video that Google showed at I/O.
How will SGE impact SEO?
It is impossible to predict, but SGE is going to play a huge role in the whole search ecosystem.
This AI tool gives users an interactive search experience and encourages users to stay on the search results page and to converse with the AI tool and not navigate to outside sites.
The impact of this is far reaching, here are just some ways that SGE will affect SEO as we know It today.
Keywords
One likely outcome of SGE is that keywords and keyword volume will be less and less important. Because SGE is so interactive and conversational users may spend more time engaging with the tool and "conversing" back and forth with the tool.
Rankings
The gold standard for any SEO strategy is to be at position 1 on the search results page.
SGC will turn position 1 upside down. As SGE aims to provide more accurate and relevant responses to user queries, users will likely read the AI generated response and not scroll down to the top ranking website.
So in other words, a high quality, well-researched article may be used as part of the AI result, but the link and credit of the original author will be more difficult to access.
Click Through Rate
With answers on the search results page users won't need to click through to sites to get answers to their questions.
At Clapping Dog Media we still have a ton of questions and are reading and learning about the impact of this new search on the entire content marketing industry. Here are some of the sources we are reading.
https://www.theflywheel.app/product-led-guide/search-generative-experience
https://blackbeanmarketing.com/insights/googles-sge-update-will-change-seo-forever
https://www.mariehaynes.com/newsletter/episode-287/
https://blog.google/products/search/generative-ai-search/