Have you ever watched Fixer Upper? 
The best part of the show is, of course, the big reveal.  You know the day when Jo and Chip roll away a HUGE picture of the before design to reveal the after. 
Today is that day for Clapping Dog Media.
It's new-website-reveal-day.
We are beyond excited. 
Before we go much further, here is a quick look at the home page before.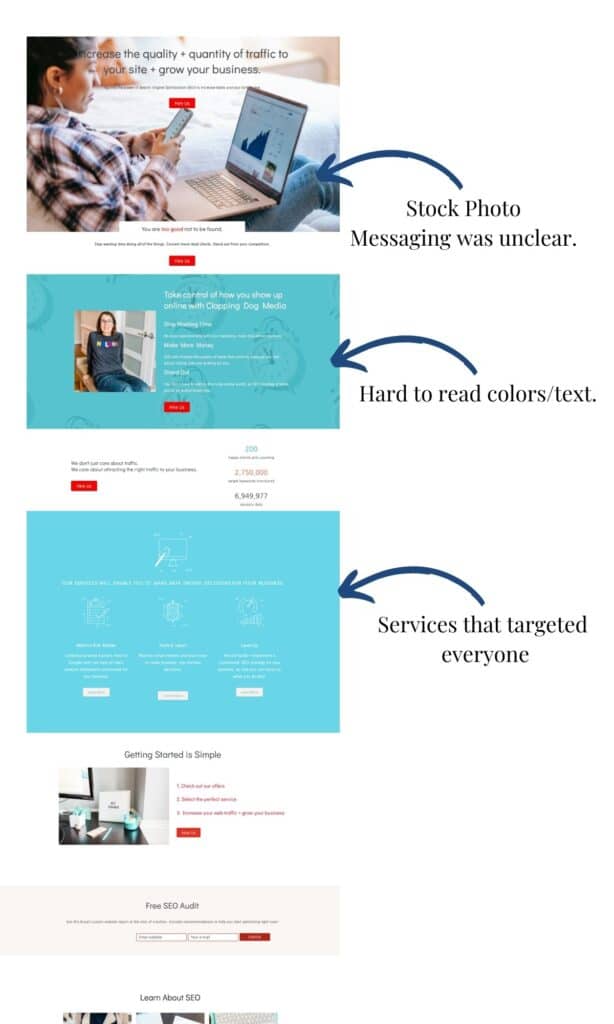 And here is a look at our new home page.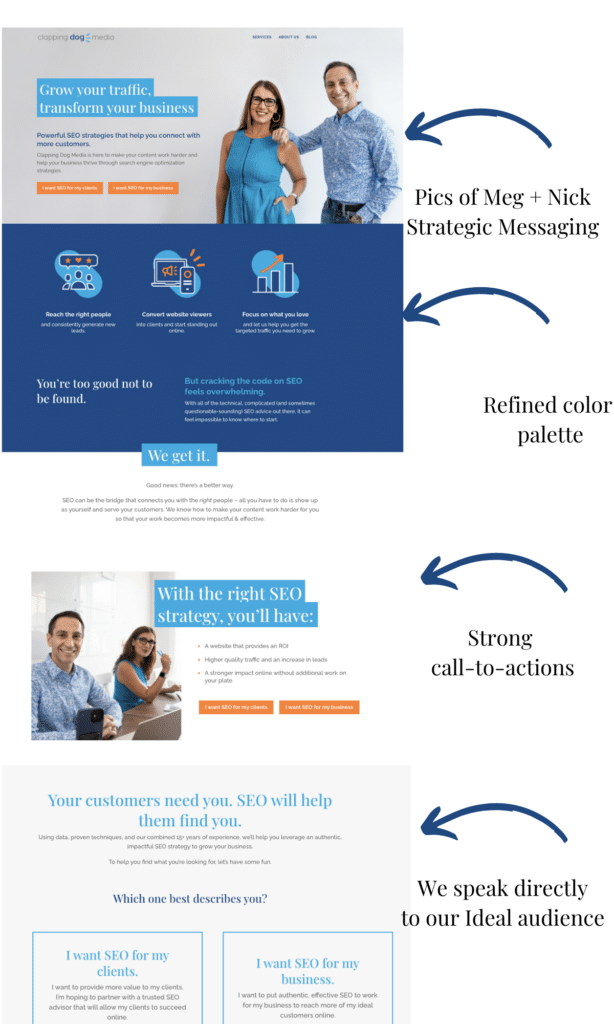 We are thrilled.
But for real, designing a new website is a big deal and is something that Nick and I put off as long as possible. 
Not only is it a significant time and money investment, it is also a super vulnerable time for SEO.
Overhauling clappingdogmedia.com is not a decision that Nick and I took lightly.
In this post we are going to go into the details of 
Why we decided to rebuild our site

Why we selected the team we did

What changed on the site and what didn't
Why We Decided to Rebuild our Website
We didn't redesign the website just because we wanted a new one, our business needed a new site. 
For the last several years as our business pivoted and grew, we continually tweaked the site. We added and removed pages, we updated the services again and again, we basically put pretty bandaids on the site as we needed.
After 2-3 years of making due, the site was not cohesive and more importantly the site was not representative of who we were as a business.
If a website is the visual representation of the heart of the business, our site was a sad, misrepresentation of who we were. 
In the past several years, our team grew, our services evolved and our ideal client changed. None of this was visually represented on our website, it was time for a complete overhaul.
The Design Team
When Nick and I decided to move forward with a new website, we knew that we wanted to work with a team that could help us with the visual aesthetic of the site but, more importantly, we wanted a team that could help with the overall strategy as well. 
We wanted to work with a team that was well versed in marketing — not just design. 
Finding a team that could help us build a new site centered on the StoryBrand framework was a priority for us. 
The driving thought behind StoryBrand marketing is this: Your customers don't really care about you or your business. What they do care about is themselves, their life – their business – and how you and your business solve their problems to make it better. (source)
As a premiere SEO agency we resonate a lot with StoryBrand and their ethos. 
SEO feels complicated and boring, but the benefits of SEO to small businesses are immense. SEO solves a lot of problems for our clients and we wanted to work with a team that understands both SEO and StoryBrand Marketing. 
After finding and interviewing several teams, we decided to work with Sonja and her team at Fresh Coast Creative.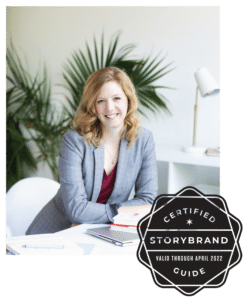 We selected Fresh Coast for several reasons, here are our top 3 reasons
Both Nick and I initially really liked Sonja, the founder and CEO. She is kind and very smart and she just seemed like someone we would get along well with.

For each project, she focuses on marketing strategy done in a very beautiful way. 

Fresh Coast Creative is invested in long term relationships (just like we are!) The entire engagement is 18 months long because successful websites are never fully finished, they pivot over time.  Our new site will continue to grow and change as our business grows and changes and we have a long-term partner with Fresh Coast Creative to ensure that our site evolves beautifully. 
If  you are ready for a website overhaul, we highly recommend the team at Fresh Coast Creative. 
So what changed on the new site and what didn't?
A lot changed on the new site.
In addition to the overall design (photos, colors, layout), the big shift that we wanted to communicate was with our target audience. 
We wanted to clearly state that we work with businesses who are ready to grow. 
Our ideal client is a small business who has been around for a while and whose business has grown mostly from word of mouth and referrals. SEO is most impactful for businesses who are an established expert in their field.
We also wanted to focus on growing our partnerships.
At Clapping Dog Media we partner with web developers, web designers, marketing agencies, copywriters and others who want to add more value to their clients. 
SEO is like a microphone. 
SEO will help a website or a new marketing campaign reach more people. Partnering with developers and designers and writers elevates everyone's work and enables the client to make a bigger impact with their work. 
The original clapping dog media site tried to appeal to everyone with a website. 
We had a lot of DIY SEO messaging that needed to be removed as well as older, outdated content. We deleted A LOT of pages that were not helpful to our ideal audience.
Clearly, a lot changed on the new website, but several key things did not. What didn't change was:
Our name

Our URL

Hosting (flywheel)

The Platform (WordPress)
Our name and URL remained the same due to our preference. The host and platform remained the same for SEO purposes. Updating a site and deleting URLs is a vulnerable time for SEO so it is important to keep as much of the backend of the site the same. 
So, what do you think? Do you like the new site? 
Please poke around and check out the website audit and the other posts that made the cut.
We plan on creating new content regularly that will help you grow in your understanding of and appreciation for SEO.
After reading this you are like, "My gosh, I am your ideal client!" well great, go on over here and contact us.