The mobile version of Google Perspectives is live.
How to use Perspectives
Go, Grab your phone.
Open the Google or Chrome app
Search for something. Try iphone cases or kindle or taco salad recipe
Click on the Perspectives Filter just under the search box
This is User Generated (not AI) content.
I was expecting the results to be mostly YouTube Shorts, TikTok Videos, Reddit and Quora responses (based on the presentation from the Google I/O conference).
But the results I have seen are:
Full length YouTube videos
YouTube Shorts
Some TikTok – actually way less than I was expecting
Some Reddits
Some regular websites
Very few Instagram results, I think that I have seen one result
It is super important to note that the video content plays on the page, you don't navigate to a new page. You can start and stop all the videos on that page. And if you pause, the videos will autoplay.
As you continue to scroll, Google will then offer up alternate searches, to provide you with different, perhaps better, results. ALSO the background color changes.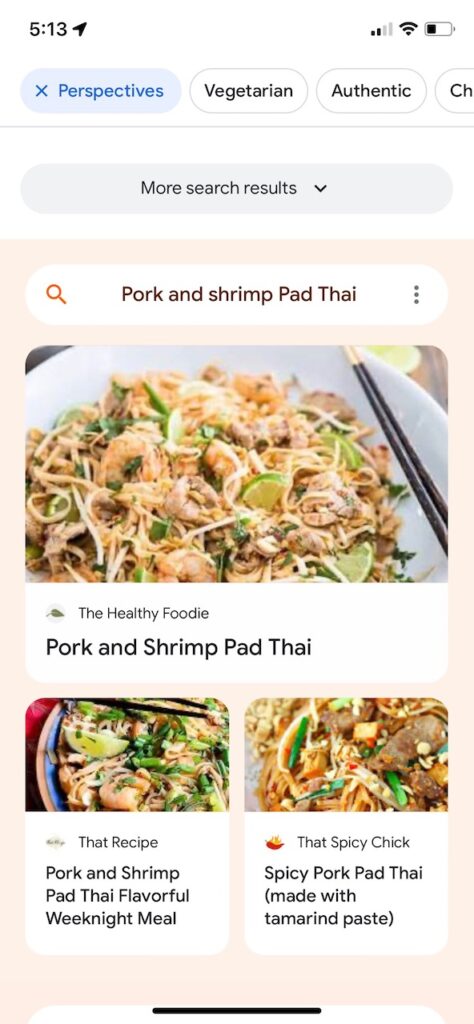 Now, these results are from websites as well as video content.
The big idea with this Perspectives filter is to offer a Lived Experience to queries. Liz Reid, VP of Search at Google, told Search Engine Land at Google I/O. These searchers are able to see answers from people who are sharing their own personal perspectives and these answers are provided in a user interface that is more friendly and consumable to the younger searcher.
As of Jun 14, 2023 Perspectives has been live for maybe 72 hours at most.
So it is early. We don't yet know what factors Google is using to rank these results.
We at Clapping Dog Media think this is a huge release from Google. We believe that this is going to make a significant dent into how users find and interact with information.
We predict that we will hear words like Authentic, Made by Humans, Creator Led Content, Digital PR, Multi Channel Marketing a whole lot more now.