Social Media.
Recently those two words have made even the most optimistic marketer cringe.
In some ways, it feels like the golden age of social media and online business has lost its luster. What used to work no longer does, Facebook ads, anyone?
Now with so many different platforms, it can be difficult to know which one to be active on and how to use it most effectively, right?
It is a confusing world out there, but here is what we know to be true.
Your target audience is on social media, there are over

4 billion active social media users worldwide

.

Social Media is very effective at amplifying content, attracting new audiences and building trust.

You don't need to be active on all platforms, but you should find one that aligns with your business and focus on that one.
Each month at Clapping Dog Media we prepare dozens of performance reports for our clients based on their site and social media metrics. This means we have real-time, first-hand knowledge of what is working and what isn't when it comes to social media.
In this post, we are going to reveal what the data is telling us about Instagram, Facebook, TikTok and LinkedIn.
We are going to talk about numbers, trends, effective strategies and which platform most benefits your SEO.
Quick Links:
Instagram
Let's start with Instagram, here are the basic numbers.
Users: 1.45+ billion active users.
Good For: Direct Messaging + Stories.
SEO Friendly-ness: 4 out of 10.
Want more insta stats? Here is a very thorough article by Sprout Social.
What we love about Instagram:
It's fun.
It's highly engaging.
Its feed is very customized to the user.
DM-ing is a great way for business owners to connect directly with their audience.
How does the Instagram algorithm work?
Last June, the CEO of Instagram wrote this article about the Instagram algorithm, Shedding More Light on How Instagram Works.
In the article the CEO states, each time a user opens the app, the Instagram algorithm instantly combs through all available content to decide which posts go to the top of the newsfeed, and in what order, what posts are in the Explore tab and what Reels show up in the feed.
To determine all of this, the Instagram algorithms look at:
Relationship: does the user interact with you frequently.
Interest: does the user typically engage with this type of post.
Timelines: was it posted recently.
Frequency: how often does the user check instagram.
Following: how many people does this user follow.
In other words, the more time you spend engaging on Instagram, the more of that type of content Instagram will show you.
Now this is a double edged sword.
If you (like me) spend time looking at goldendoodle reels, dreamy travel destinations and my favorite online friends – this isn't awesome for business. I have effectively trained the Instagram algorithm to show me more dogs, beaches, and all of the Peloton instructors.
So the problem is when we post on Instagram about SEO, the Instagram algorithm doesn't know what to do with the post since the post content doesn't align with what I most often view.
To fix this, then you have to engage only with accounts that align with your target audience. That means I shouldn't indulge myself with doodles or Cody if I want to connect with online business owners.
How does Instagram affect SEO:
The good news is that Google indexes Instagram profiles!

The bad news is that Google does not (yet) index Instagram posts, reels, or stories. According to Search Engine Land, the Instagram web app is mostly buried in JavaScript, and that means that the links to your individual Instagram posts from your Instagram profile don't count as "real" links according to Google. For this reason, the vast majority of Instagram posts are not indexed in the search results.
In other words, the posts, reels, and stories cannot be found outside of Instagram.
So you have to create blog/video content for your websites and additional content for Instagram. You can certainly promote blog content on Instagram but you have to create a story/post/reel within Instagram to promote it.
Now, let's move on to Instagram's older and bigger step sister, Facebook.
Facebook
Remember Facebook has been around since 2004; here are their numbers.
Users: Facebook has 2.9 Billion active users.
Good For: Targeting Your Audience.
SEO Friendly-ness: 9 out of 10.
What we love about Facebook:
It has a huge number of users.
It's easy to find and to engage with friends.
Its feed is very customized to the user.
Business pages, videos, images, profiles and posts are all indexed by Google.
How does the Facebook Algorithm work
Facebook says their feed "shows you stories that are meaningful and informative." As of 2022, the Facebook algorithm figures out what those stories might be using three main ranking signals:
Who posted it: You're more likely to see content from sources you interact with, including friends and businesses.
Type of content: If you most often interact with video, you'll see more video. If you engage with photos, you'll see more photos. You get the idea.
Interactions with the post: Feed will prioritize posts with a lot of engagement, especially from people you interact with a lot.
Each post is ranked based on these main signals to determine where it appears in your feed.
Facebook also gives users options that help them train the algorithm and customize their feed by favoriting a post or by telling Facebook not to show that user or type of content in your feed.
Facebook, like Instagram, will build a custom feed based on your likes and engagement. So the best way to grow your audience on Facebook is to post often, engage with comments and messages and to also engage with other users.
We find that most of our clients who get significant business from Facebook are because of Facebook Groups. Finding and engaging with other users who have similar interests or are somewhat aligned is the best way to find your tribe within Facebook.
How does Facebook affect SEO
Facebook profiles, pages and posts are all indexed by Google; therefore, Facebook is very good for your overall SEO strategy.
This is extremely important for local businesses. Facebook reviews are also essential for local SEO. If you do a search for your business name and Facebook, you can see all of the results. Posts, pages, photos and videos are all searchable by Google.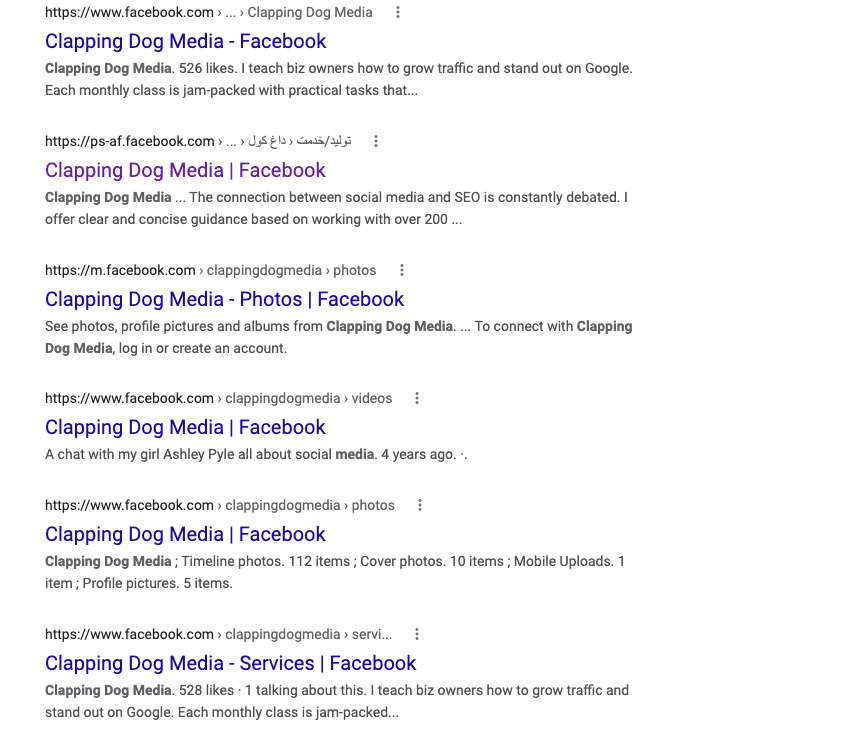 Not only is Facebook good for engaging with a wider audience, your posts can also be found through Google Search. And LOTS of them, look at all of the results that show up in Google for our business account!
In other words, Facebook makes it easier to repurpose content. Links to posts and videos can easily be shared in Facebook AND they can also be found organically through Google.
If Facebook is the old step sister of social media platforms, then TikTok is the new, spunky younger sister.
TikTok
The numbers are growing so quickly, we found several different estimates. Here is what Tech Crunch is reporting.
Users: 755 Million Users.
Good For: Increasing Brand Awareness and Promoting Products.
SEO Friendly-ness: 2 out of 10.
What we love about Tiktok
It's super fun and easy to be distracted – the average session duration is over 10 minutes!
It feels very authentic and not curated.
There are a lot of businesses taking advantage of the high engagement rates of TikTok
How does the TikTok algorithm work
There isn't much known/published about how the TikTok algorithm works. The TikTok algorithm is a recommendation system that determines which videos will appear on your For You page.
According to TikTok, the algorithm determines what to display in the users feed through a series of feedback loops.
When someone uploads a video to the platform, the "For You" algorithm tests it on a small subset of users who may or may not already follow the creator.
The algorithm makes this selection based on a few factors, including interests and past behavior.
If that initial group of users responds favorably, TikTok will keep repeating this process, using the feedback it captures to determine whether to show a video to more audiences. If enough users have a positive response to a video, it can go viral.
On the flip side, if the initial test group doesn't like a video, TikTok will show it to fewer users, thus limiting its reach.
According to TikTok, the recommendation engine looks at three main things when servicing up "for you" content.
User interactions – likes, comments, shares as well as the content users post and the accounts they follow. This is basically knowing your audience and creating content for them.
Video Information – captions, hashtags and the sounds associated with a video.
Device and Account Settings – language preference, device type and location.
What is really interesting about TikTok is that any brand or user account can show up in someone's feed – it doesn't matter if they "follow" that brand or not. TikTok is one of the only social media platforms that removes the friend/follow/connection paradigm.
How Does TikTok affect SEO
As of May 2022, TikTok videos are not indexed by Google.
Last fall, there were lots of rumors that Google was going to make a way to index TikTok videos and Instagram Reels, but as of now they are not in Googles' index.
The account pages on TikTok are indexed but they are not super easy to find. We had the most luck finding them on Google if we knew the TikTok user name.
TikTok is a lot like Instagram when it comes to organic search. You have to create a new video to promote or amplify content on your site, it isn't as easy as simply sharing a link. AND (even worse) the content you create within TikTok cannot easily be found on Google.
Finally, let's look at LinkedIn, the slow and steady platform focused mainly on careers.
LinkedIn
LinkedIn is the largest professional networking platform.
Users: 67 Million Users
Good For: Great place to connect online
SEO Friendly-ness: 9 out of 10
What we love about LinkedIn
LinkedIn is unique because there are huge companies, small businesses and employees all on the platform. If you are looking to grow your team or to find a new gig, there is no place better than LinkedIn. It is a place where you can showcase your expertise, connections and your experience.
How Does the LinkedIn Algorithm Work
LinkedIn uses a series of rules and guidelines to determine how content is distributed, displayed and interacted with. LinkedIn, like the other platforms we considered in this article, decides who sees your content, when they see it and how they see it.
Initial engagement is the most important factor to ensure that your post gets seen on LinkedIn.
How people first react to your post determines if it will be popular and seen by a lot of people or not seen at all. The first hour that a post is up is referred to as the Golden Hour, it is within this time frame that LinkedIn determines if the post is going to be shown to a lot of people, or not.
The main goal for LinkedIn is to entice users to stay on the site as long as possible. More time spent on the site equals more ad revenue for them.
How does LinkedIn affect SEO
LinkedIn is EXCELLENT for SEO.
Posts, Profiles, Articles, Images, Videos are all indexed by Google. So simply by repurposing your content you can easily amplify the organic reach of your content.
Because LinkedIn wants users to stay on their platform, we recommend to our clients that they publish their content as LinkedIn Articles, this doubles the chance of the content being found by Google. The downside is that users won't go to your website to read the post, but in our experience the wider reach is worth it for clients.
Check out this example of an article posted on our site as a blog and on LinkedIn as an article.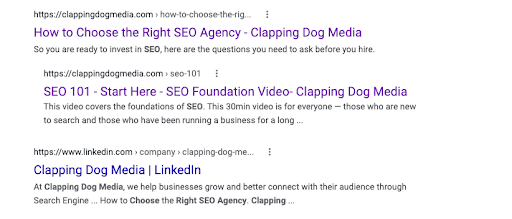 If a user is looking for How to Choose the Right SEO Agency, our content shows up twice – once on our site and once on LinkedIn, essentially doubling our findability.
What did we learn about Social Media and SEO
Social Media is a great place to show up, be authentic and to reach a wider audience. But not all social media platforms are the same. In this post we looked at just four and they are all quite different from each other.
We recommend that before you dive in and try to be on all of the platforms that you figure out how each platform aligns with your business goals and go with that one.