One of the Metrics that Matter most is New Sessions. 

New Sessions are an estimate of the percentage of First Time Visits.
Google Analytics defines a new visit as anyone who has never been on the site before (according to their tracking snippet).
The tracking snippet is based on cookies, and these cookies can sometimes cause a returning visitor to be classified as a new visitor. This can happen if:
If a person on your site is in

incognito mode.

If a person first checks out your site on their phone then goes to your site on their desktop and,

this is key

, they are not logged into Chrome on both devices then the user will count as 2 new visits – one on the phone and one on the desktop. BUT if the user is logged into Chrome then they will only be counted as one visit.

If a person visits your site once and then comes back a second time 3 years later. Google tracking snippets account for a 2 year time period.  (

wild

, right!)

If a person visits your site and then clears their browser cache before viewing it again.
Returning visitors, on the other hand, is anyone who comes back to the site multiple times.
There are no specific benchmark numbers for New and Returning visitors. It is important to have both and that both increase over time. 
A new website will have 80-90% new visitors at first and with time – if the content provides a lot of value – more users will come back again and again.
Returning visitors are valuable because they become raving fans of your site and they will likely convert to be  $$ paying customers $$.
How to find the percentages of New vs Returning Users
Great question. If you are using Universal Analytics you can go to:
AUDIENCE > Behavior > New vs Returning (remember you need to have GA4 installed ASAP, as Universal Analytics is going away in July of 2023.)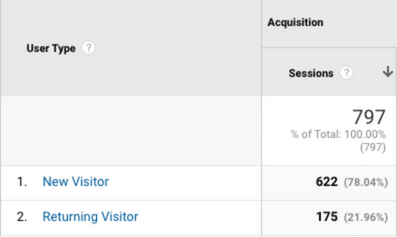 In Google Analytics 4, go to Reports > Retention to see the the number of New vs Returning Users. 

PRO TIP
: We recommend that you monitor where your new visitors come from. You may find that Organic Search drives the most new users while Organic Social drives the most returning users to the site. Either way, it is important to know which efforts are bringing new users to your site. 
Why New Users are Important
New users are Brand New to you. It means that your brand awareness is growing. It means that you are casting a wider net. New users mean that your marketing efforts are working. YAY!
These New users didn't know that you existed prior to visiting your site. 
If the number of new users is growing each month, do this
Horray! Brand New people are landing on your website, what now? 
Make it really easy for new users to know who you are and what you do.
Website visitors have the attention span of gnats (that is 8 seconds). So it is your job to make it very easy for them to understand your value so that they engage with your site and don't click off to the next shiny object. 
Also, this is good for Google. 
Google Bots have a limited crawl budget, which is basically their attention span, so making it easy for Google to understand who you are and how it should categorize your site will benefit your SEO.
Making it easy for first time users to grasp the message and value of a site is a balance of exceptional design, effective copywriting and having a site that is easy to navigate.
Effective tactics for capturing the attention of website user
s are:
Have a START HERE page that is easy to find.  An effective  Start Here page is like rolling out the red carpet for your visitors and giving new people a positive first impression of you. It is a great way to communicate who you are, the value that you provide and a call to action like signing up for your newsletter or booking a demo. 

Clearly state your value and make it the first thing visitors see on your site. The StoryBrand Framework is really good at this, if you don't know about it, check it out. We find the framework to be very effective for engaging site visitors.
Give your users one thing to do. This is always a challenge for clients because they want website visitors to do ALL of the things – sign up for the newsletter, read the blogs, watch the YouTube videos and call for a demo. But that is a lot and asking users to do all of the things at once is a sure fire way to get them to bounce off of the site.  It is so important to have an obvious call to action, have users sign up or book a call, give them one easy thing to do.
Here are some sites that have a compelling message and a strong call to action. These examples are very good at getting visitors to engage with the site (hello, metrics that matter!)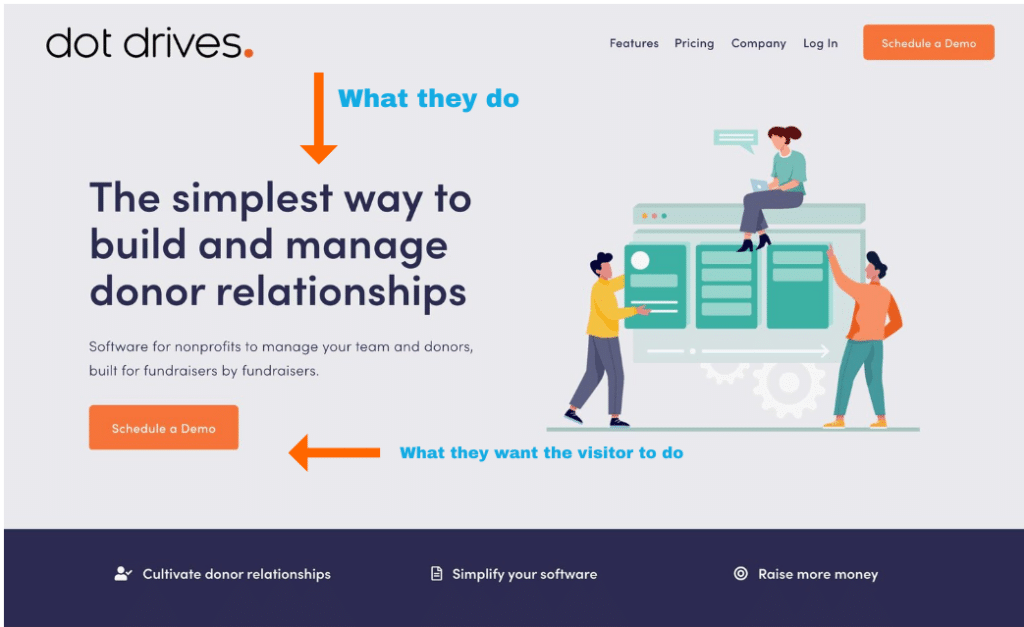 Remember, SEO will increase traffic to your site, but if the site is clunky, confusing or overwhelming – users will leave and not come back. 
We don't want you to feel overwhelmed by all of the marketing reports that are available to business owners.
Our goal is to make it easy for you to understand what is important to track and what isn't and what to do about it. 
Understanding data will empower you to make the next right decision in your business. Do you want insights into your data, reach out, we are here to help.