What are Google Visual Stories (also called Web stories)?
Google Web Stories look and behave very similarly to Instagram or Facebook Stories.
Web stories are mobile-focused (you can view them on desktops, but they are meant to be consumed on phones) visual, tappable slides that blend video, audio, images, animation and text. The individual slides allow you to share brand narratives that users click thru to experience the story you want to tell.
If you haven't seen one before, here Is a quick screen cap of one from Google's Showcase.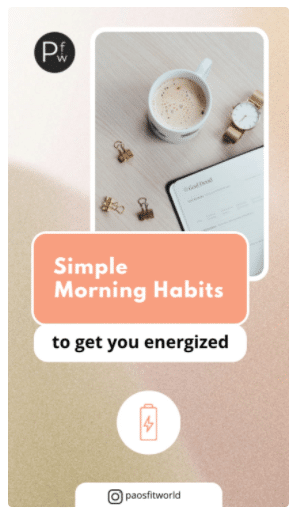 How do you view Google Web Stories on the web?
How users experience Google Web Stories is a key differentiator to the stories in Insta and Facebook.
The big deal with Google Stories is that you own them.
They don't get published directly on social media, they are posted on your own website. Because of this visual stories appear on your site, in search results, on Google Discover and can be used in emails.
You can find Google Web Stories on the search results page on the Chrome or Safari app on your mobile device.
The search results page on mobile is divided into multiple "stacks" Googles' Visual Stories have their own stack.
Check this out. I googled "Halloween Treats" using the Chrome app on my iPhone. As the page scrolls you can see the different stacks:
Ads
Other Related Searches
Website (Delish.com) Recipes
People Also Ask
Visual Stories
More Websites
Web Stories are categorized as its own kind of content just like video or podcasting content is considered independent channels.
Why We Like Google Stories more than Insta and Facebook Stories
The ability to post them on your own site is what makes them different from other story experiences. In addition, you can include links- on every slide.
This bears repeating. You can post unique links on every single slide.
So from an SEO perspective (our favorite perspective) this is just another way to send a lot of traffic to your site.
We also love Google stories because they don't expire in 24 hours. They live on forever.
What are the SEO Benefits of Google Stories
In full transparency, the story that we created for this blog post is the first one we have ever done. So we don't have traffic reports from our own site to report on.
However, we do have several clients who have used Web Stories  as part of their content marketing strategy, so we can share their experience.
One client, who is a food blogger, got 10,000+ new visits in one day after posting a story on a popular peach cobbler recipe. After this initial success, she created several additional stories for popular recipes. Many of them got crazy traffic, but not all of them.
It is also worth mentioning that the web stories that spiked their traffic were for very timely recipes, the Peach Cobbler story is not driving significant traffic to the site now, in late October.
I also found this post from another foodie (not our client) who had similar experiences.
She says, I thought this wouldn't work but it actually did. I did this by creating stories for my top and average working posts. The stories that showed a sudden spike and increase in traffic were my popular posts.
Similarly, we found this article by WordLift who claims their traffic was boosted by 504% by using Google Web Stories.
How to make a Google Visual Story
Step 1: Pick a Visual Editor
Download the Web Story editor plug-in for WordPress or use other web story editors such as ProductStories for Shopify or  Make Stories, or Newsroom AI. We use the Web Story plugin from WordPress.
Step 2: Create the Web Story
Map out a solid storyboard. 
The best web stories are crafted like a story with a beginning and an end. Crafting the story includes writing the copy, selecting visuals, animation, audio, and video for each page in the story. Visual composition is important. (Important to note that the web stories format is vertical, like the screen on a mobile phone.)
The WordPress plugin (as I am sure the other tools are too) is a Simple Drag & Drop interface that has pre-built templates!  WAHOO! Of course, you can import your own custom fonts, create your own templates, upload your own videos, audio and images. You can even incorporate quizzes and polls.
Step 3: Publish the story
Once you have completed your Web Story and feel confident of its media, layout and text you are ready to publish.
From a linking standpoint, you can add links to external supporting content.
Deep-linking to specific pages in your Web Story is also an available feature.
Since a web story is a collection of pages, it is possible to drive the users to a specific page within the story.
Tips for Creating Web Stories
Link all of your stories from a single landing page on your site like Cook with Kushi.  If you embed the stories within a post, it will ruin page speed.
Your content has to be excellent, content is still king.
It is recommended that each story has  5 to 20 slides. Stories that are only 2-3 slides long and force the reader to the website for any useful information about the proposed topic is NOT good user experience. In other words, don't tease the user give them helpful info within the story.
Make sure that you use a variety of media — images, sound, video… you know make the content engaging.
Videos should be no longer than 15 seconds and should have subtitles.
All video content should be showcased in portrait not in landscape mode so that the viewing experience is optimized for mobile devices.
The minimum recommended font size is 24.
Google has a whole page decided to tips on best practices for making an engaging Google web story check it out.