The Holiday Season is here and it is a fantastic time to create content that will drive traffic to your site and help you connect to your audience.
After monitoring sites from many different industries over several years, we have discovered that there are a few types of content that consistently increase traffic during the holiday season.
Gift Guides, literally everyone is searching for good ones
If you don't have a Gift Guide in your content plan this holiday season, you need to add one.
Right away. 
Gift Guides are an excellent type of content to post during the holidays because they work for nearly all businesses. The content can be flexible for a wide audience, and it gives you a chance to show up authentically to your audience.   
And most importantly, everyone searches for gift guides throughout the holiday season.
The most successful gift guides are curated to a particular audience such as (new) moms, (new) dads, foodies, yogis, entrepreneurs, or etc.
We encourage you to create a gift guide that is filled with great ideas — not just the obvious go-tos, but gifts that you would really like to receive as well. This is a chance to show your authenticity and to show people your true self — not just your online persona.
So, if we here at Clapping Dog Media were creating a Gift Guide, we would absolutely include a subscription to our favorite SEO Software and our favorite SEO Newsletter, but we would also include more personal wishes as well. 
For me, Meg, I would add MEATER Smart Meat Thermometer.
This is a perfect gift because I love to use our Big Green Egg throughout the winter (grilled pizza, anyone?) and if I could monitor the temperature of the grill from inside my house instead of outside in the cold, well that would be fantastic.
Nick would be sure to include a cozy pair of  winter motorcycle gloves to his holiday guide because he loves all things cars and motorcycles and a warm pair of gloves will help him enjoy his moto throughout the winter. 
Maria doesn't want a thing per se, she would include an indulgent massage at her favorite spa. I mean, giving the gift of a massage is really a perfect gift for everyone on your list. 
When creating a gift guide we have one must-do SEO tip that will attract a wide audience —  Optimize the Title.
To make it easy, we have the perfect  SEO Title Formula for Gift Guides:
Number + for whom – WHY
The majority (not all) but most of the results on page 1 of Google for various gift guide searches follow this formula.
Here is a snapshot of the SERP when I googled "gift guide for new moms"
See what we mean, 29 Best Gifts +  for New Moms – That She'll Actually Use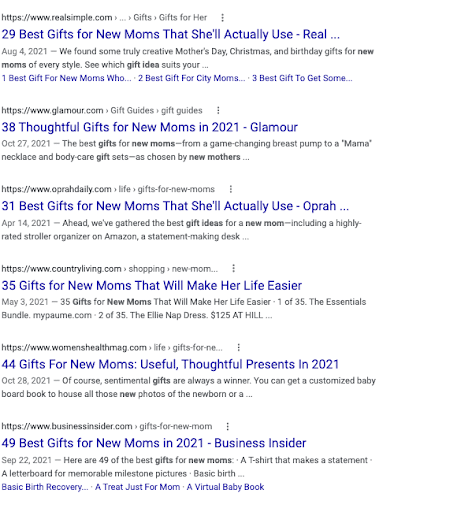 So go on. Create a gift guide that is filled with great ideas and also be sure to post the content as a story — Insta and Google Web Stories. 
The next  type of content that consistently performs well late in the 4th quarter are Year-End Reviews. 
Year End Reviews are a look back on the year from a business and industry perspective. 
You should write about what worked, what didn't and what you learned. This type of content is very valuable to your audience as they can learn from your experiences  and they will be able to relate to you on a deeper level. 
A successful post will point out the most significant events and how these affected your business, for better or worse. There are various types of year-end reviews, here are some of our favorite types: 
A round-up of your top blog or social posts of the year
A reflection on the best practices in your niche
A list of the impact your business made
A highlight of key accomplishments
An account of lessons learned.
Year End reviews are also great for social media and Google Web Stories. You can create a slide for each lesson learned.
We are planning our year end review posts (you will be able to read it in late December). In ours, we are going to highlight some awesome things that happened with our business this year like:
New Web Site

New People

# of clients we have served

# of keywords we monitor

Plus we are going to recap the major changes that happened within the SEO world.
The final super successful type of content we recommend you write this time of year is a Give Back post.
Tony Robbins says, that the secret to living is giving. And we wholeheartedly agree.
It's so important to live for a bigger purpose than just the daily hustle, serving others is ours.
As a family, we have given back to organizations that help with poverty. We have two sons whom we adopted from Uganda and their orphanage, Good Shepherds Fold, is a place we love. Our family gives our money and time to GSF. This year, they are raising money for scholarships to send kids to University and they are raising money to help educate, house and feed the children they serve.
As a business, we have hearts for amazing organizations like Golden's Without Borders. This is an organization that rescues Golden Retrievers from being killed in overseas countries as part of the dog meat trade.
The holiday season is a wonderful opportunity to share with your audience the ways your company supports those in need and gives back to the community. In our experience, visitors transform into raving fans knowing that we give back to others.
There are so many ways and so many amazing organizations to give too.
Spread some holiday cheer and share it with your audience. Create content and capture it for your audience, make them a part of your give back campaign. 
So that is it, if you are out of ideas of what to write about this season here are our go-to ideas that will increase your visibility this holiday season.