Does Podcasting Help SEO?
If we had a dime every time one of our clients asked us this…. well you know how it goes. 
Yes, the answer is YES. Podcasts are great for helping businesses grow their brand awareness. 
Remember, creating fresh new content always helps SEO. And also, people love listening to podcasts. The data shows that in 2021, 116 million people regularly listened to their favorite podcast.  
We approach SEO for Podcasts in a very similar way as SEO for YouTube videos.
The big idea is for listeners (and potential new clients) to first go to the website then engage with the podcast. The website is where people convert. On the site people buy, they fill out the contact form and they subscribe to your email list.
Pro Tip: The goal is for your podcast listeners to find the podcast on your website and then subscribe using their favorite app. (Our favorite podcast app is Overcast. We like it because you can create playlists and it has a super simple interface.) 
How do users find podcasts? The answer is quality show notes.
What Are Show Notes?
Show notes are a detail rich summary of the podcast episode.
They are not the full transcript but rather they give an overview of the episode, the topics discussed and they list resources and links mentioned in the episode. Show notes should also include info about the guests and how users can find and follow them. 
Why Are Show Notes Important? 
Google reads.
Google doesn't listen to the podcast episode and then decide how to rank it. Google needs written context to know how to rank each episode. Quality, keyword rich podcast show notes are important because:
They have great SEO value. Show notes are similar to a blog post, they are rich in keywords, headlines and links! 

They enhance user experience. Show notes are a valuable summary of the podcast episode.

They are helpful. The listeners know to go to the show notes to get valuable info and links mentioned in the podcast.

Because the majority of people are doing other things while listening to a podcast,  one can easily tune out and miss key points. 

They are shareable. Show notes are great for sharing on social media. 
How to Write Effective Show Notes 
Include basic information. Show notes must include the episode title and episode number, the aired date, the names of guest speakers appearing on the specific episode. All this information is necessary for having a positive user experience and enabling a reader to find the specific podcast episode. 

Include a summary of basic insights of the episode. The core of the show notes is to give an accurate and concise overview of the episode, outline main talking points, key takeaways in an easy-to-read format. This is the opportunity to write valuable content and make your episode enticing to potential listeners.

Have consistent format. The structure and layout of the show notes of all episodes must be the same or at least as similar as possible. This helps both the podcaster to save time when following the same pattern putting together the show notes, but also to make it easier for the readers to navigate the content. 

Include a call-to-action. Here is the opportunity to get leads, grow brand awareness by asking the readers to either sign up to an email newsletter, follow the podcast, or tap a link related to an offer or a promotion going on at the moment. 

Be skimmable. Podcast notes should be formatted so that they are easy to read.
What are examples of SEO Friendly Podcast Show Notes?
We have some great examples of quality podcast show notes.
First, take a look at one of our favorites, Micala Quinn. In one of her recent podcasts, she highlighted a success story of one of her clients.  What we love about these show notes is that they are easy to read, they include several follow up resources and have a quality call to action to follow Micala.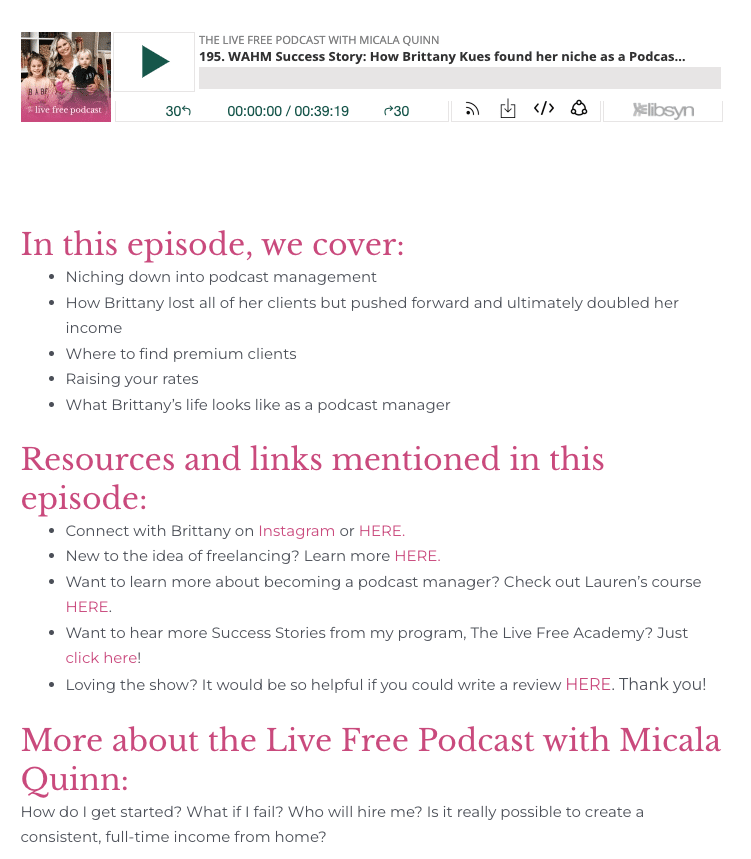 We also love the show notes from the Boss Project.
They have a thorough summary of the show, a sharable quote, and a call to action.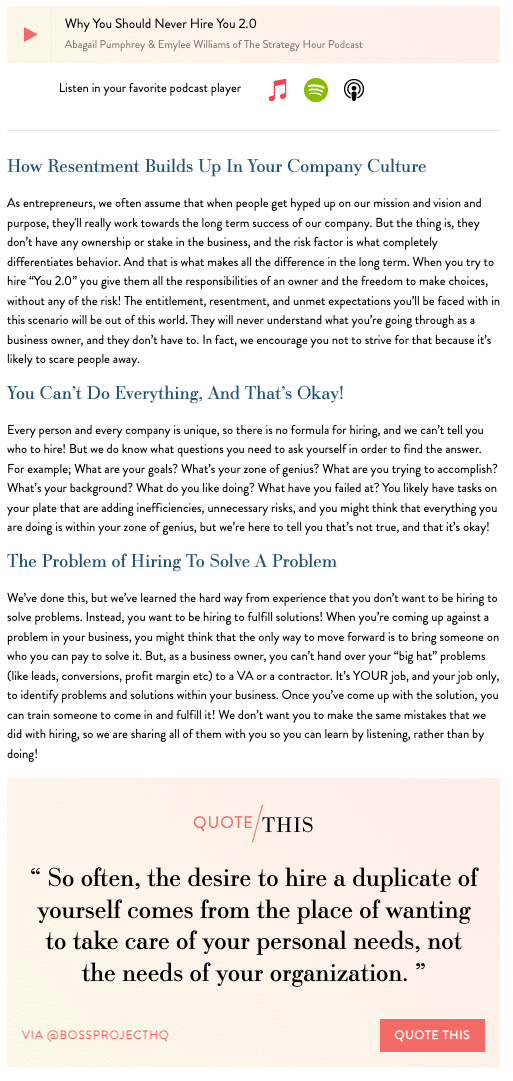 Podcasts are a fantastic way to reach a wider audience and to increase the SEO of your site.