One of the most common questions we get asked about here at Clapping Dog Media is about paid search aka SEM aka PPC.
Clients want to know if they have a pot of money, how should they spend it – on organic or paid search? 
Which one is going to bring the best results? 
Which one is going to bring long term results? 
Which is going to bring the fastest results?
While both SEO (organic) and SEM (paid) increase website traffic, they are two different approaches. 
What is the difference between SEO and SEM?
SEO is the process of increasing a websites' visibility and ranking on Google search. Higher rankings can result in more traffic, increased conversions and a high ROI. 
SEM on the other hand, is paid search engine marketing or pay-per-click(PPC) is when an advertiser pays every time a user clicks their link. PPC drives traffic to the website because they are typically placed at the top of the search results page.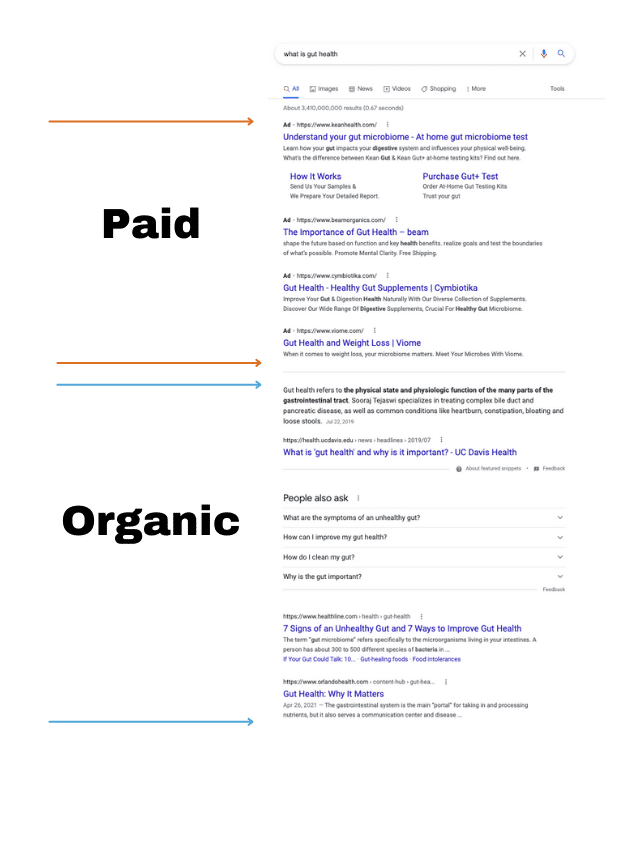 What are the advantages of SEO?
SEO provides continuous traffic.

Once you gain momentum with organic traffic, it continues.

If you consistently post high-value content, you will consistently attract readers. The more you post, the more you attract. 

It's the

flywheel effect

.

SEO doesn't pay for clicks

. A comprehensive

SEO strategy does cost money, but it will enable the business to reach new customers without having to pay everytime someone clicks on the link. 

SEO is long term

. SEO is a long-term strategy and is more sustainable than most PPC campaigns.

SEO builds the credibility of a website

. SEO helps websites appear in the top SERPs and the more they appear in top rankings the higher their credibility by Google. This will drive traffic and conversions.
What are the disadvantages of SEO?
Organic Traffic and keyword rankings take time.

Typically, SEO takes three to six months for organic traffic to grow significantly.

Website content should be posted regularly and be high quality.

Google cares about consistency and high-value content – which takes effort, time and money to produce.

SEO is affected by Google algorithms. A top complaint about SEO is that Google changes "all the time". It is true that Google updates the algorithm frequently, but they don't change the rules significantly. Google is focused on providing the best search results for all inquiries and sometimes that means tweaking keywords, updating content and aligning the site with the adjusted algorithm.
Those are the advantages and disadvantages of SEO, what we focus on here at Clapping Dog Media  –  now, let's consider Paid Ads.
What are the advantages of SEM?
SEM offers maximum visibility in search results.

The biggest advantage is that the site gets to the top of the search results page in the Paid Ad block pretty much immediately. The website owner pays exclusively for clicks on the ad. 

SEM delivers immediate results

. Whether it is about a new website launch or a new brand, paid ads are the best way to get on page one of Google.

Paid ads are also beneficial for any special promotions or events that need exposure and cannot be planned months in advance.

SEM provides flexibility.

There is control of an advertising campaign in the sense of having the ability to choose which keywords to bid on, how much to spend, select the location of the ad placement, pause the campaign, or change and adjust the time and days of the week that the promotion will run. 
What are the disadvantages of SEM?
SEM takes time (and money) to build an effective strategy. 

SEM is targeted marketing, which means that doing research on the target audience, testing keywords, managing budget –all take time (and money) to figure out.

SEM can be expensive

. If you work with a PPC expert, you have to pay the expert and pay for the ads. PPC campaigns are based on keywords and some keywords are more expensive than others.

Even though there is the ability to control the advertising campaign budget, paid ad campaigns are expensive. 

SEM has high competition

. There are a lot of businesses competing for the top ad spots.  And the business that has the biggest budget will get placed higher and more often than the competitors with a smaller budget.  The top place is often taken by the one who pays the most. For paid advertising, you get what you pay for.

 

SEM deters some users

.

Paid ads appear on the top of the first page of the search results and are identified by the word "AD". Many people dislike ads and refuse to click on them, or they simply don't trust the ads. Research shows that

roughly 25.8% of internet users use ad blockers and don't see some of the ads anyway!

SEM only works when you have an active campaign. As soon as the campaign is over, the site stops appearing on page 1. 
SEO vs SEM: Which Is Better for Your Business?
The final decision about which strategy (could be one or both) to choose depends on the budget and the business goals. Here are some interesting stats from Higher Visibility on both to help you decide.
53% of website traffic comes from organic search.
Organic search drives over 10 times more website traffic than organic social media.
67% of content marketers says SEO is their most efficient tactic.
27% of website traffic comes from paid search.
Advertising accounts of 81% of Googles total revenue.
The Google Display Networks reaches over 90% of internet users on over 650k apps.
The average click-thru-rate for ads is 3.17%
The average cost-per-click is $2.69.