As SEOs and all around data nerds, we here at Clapping Dog Media look at the numbers all day, everyday.
We track the metrics that matter so that our clients don't have to, instead they can focus on running their business.
At any given time, I have approximately 9000 tabs open in my browser. I have SEM Rush, Google Analytics 4 (GA4) and Google Search Console open for several clients at once. I monitor New Users, Top Keywords, Engagement Time, Organic Sessions, Click Through Rate and other KPIs to ensure that the SEO and Marketing efforts that clients spend so much time and money on are well…working.
Seth Godin said it best, Marketing is persuading someone to take action.
We measure this action for our clients. Whether it is increased brand awareness or email sign ups or new sales, connecting the dots between marketing efforts and results is a big part of what we do as SEOs.
For our clients each month, we build comprehensive SEO Performance Reports that contain the critical KPIs for their business along with a detailed SEO strategy to improve their results.
We analyze and report on a lot of data.
The challenge is understanding how to visually distill complex data into bite-sized, actionable information.
And that is how we found the magic of Marketing Dashboards.
What is a Marketing Dashboard
A marketing dashboard is a quick, data focused overview of marketing results and critical KPIs. The goal of the dashboard is to answer the question, "How are we performing right now?
A great analogy for a marketing dashboard is the dashboard in your car. You get all of the vital information about the condition of your car without having to pop the hood and measure the oil level by yourself.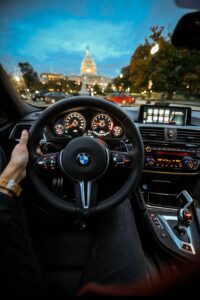 Why all Businesses Need an Insightful Data Dashboard
We have all heard the phrase, "What gets measured gets done."
It is so well known because it is true.
If you are making the effort to write blog posts, run ads, post on social media, send a newsletter or produce a podcast – you must have real data to show what is capturing the attention (and wallet) of your visitors and what is not.
It is possible to log into each application and regularly jot down the numbers from all of the software (GA4, Google Search Console, Newsletter service, Podcast streamer, Social platforms and more) that is supporting these marketing efforts, but it takes time and a pretty thorough understanding of what is worth tracking in each application.
In order to measure the success of your marketing efforts you have two choices: you can track the data or you can do your work.
This is why all businesses need a marketing dashboard – so that work can get done and you can track the effectiveness of all the marketing efforts.
A good dashboard will provide you with actionable insights and a clear understanding of what is working and what is not.
What Metrics Should You Track
A marketing dashboard will display information about user behavior, engagement, content ranking, top keywords and more.
Here is an incomplete list of important metrics to monitor, the specific metrics will vary from business to business:
Sessions
Engagement Rate
Most Popular Pages
Top Keywords
Organic Traffic
Content Performance
Spoiler Alert: We have built the best, dynamic and custom marketing dashboard, check out the Insights Report.
What Makes a Data Dashboard Effective?
Sometimes it can feel like building an effective dashboard is like distilling the ocean.
The magic is how the data is displayed and how quickly the information can be understood. Here are a few rules that we find important.
Clean Visualization: You can easily see the big picture. Only the important data is displayed. If if there are too many elements or details the dashboard can be overwhelming. Remember, complexity raises more questions than answers.
Context: You can quickly see how well the site performed compared to the last reporting period. Numbers without context are useless.
One-Stop: A good data dashboard will pull data from several sources eliminating the need to log into several applications.
How to build a marketing dashboard
Okay, so you are convinced you need a marketing dashboard, let's DIY one.
The first step is to know what you want to measure and what applications you want to pull data from.
These will be determined by your industry, the business you are tracking, as well as the type of campaigns you are using like email, social or paid ads.
Next, know the big idea you are trying to communicate. Before you can build a SEO or Marketing Dashboard you have to understand the strategic goal so that you can best display the data.
In other words, you must begin with the end in mind.
Now, you have to decide how you are going to build the dashboard. There are a lot of options. I will hit on the highs and lows of each option, a more indepth article about each option will be posted next.
Excel
The Pros of Excel is that you will likely not need to purchase software to build a dashboard.
The Cons of using Excel is that it is a lot of manual labor and advanced math needed to make an effective dashboard. Here is an example of a dashboard made in Excel.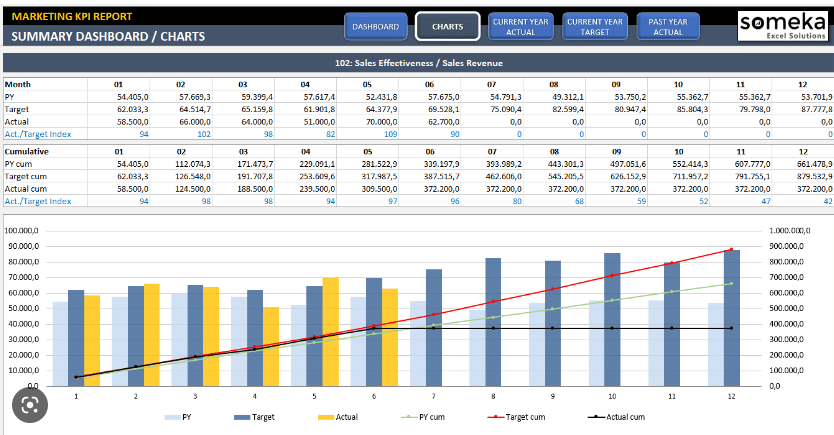 2. Google Analytics
GA4 has the ability to build very custom dashboards within the application. There is a ton of flexibility and a lot of online resources to help. There are a few big cons to this approach. The primary being that GA4 has a steep learning curve and also the metrics are limited to Google Analytics, you can not display keyword ranking data from SEM Rush as an example. Here is how a dashboard could look in GA4.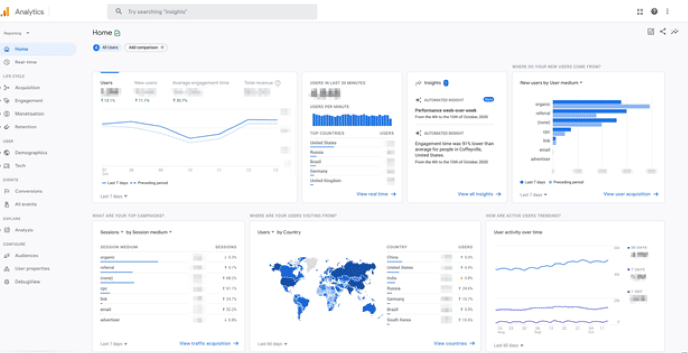 3. Looker Studio, formerly Google Data Studio
Looker Studio is a great option for building marketing dashboards. The pros: there are a lot of pre-made templates that you can easily copy and plugin your data. There are also a lot of sources that you can connect to Looker Studio. Here is a dashboard template from Looker Studio. There is not a fee for using Looker Studio, but you in some cases you have to pay to connect to different sources.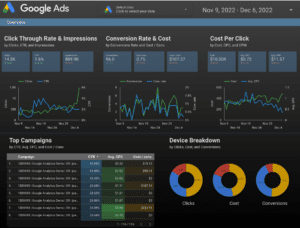 We have been building complex performance reports for our clients for years (since 2015). We understand what metrics matter the most and what to do with the data to get closer to the goals.
If you are spending time and money marketing your business but don't know if it is effecting your bottom line. Reach out, we would love to help measure the effectiveness of your marketing.